Main Content
About the Program
Dig Into Mining - The Story of Copper is an interactive educational program for students grades 6-12 that uncovers the use of metals such as copper in our everyday life, and provides students a deeper understanding of today's hard rock mining industry. The initiative equips educators, students and families with dynamic resources – including a virtual field trip, interactive digital learning tools, and school-to-home connections – designed to give students a front row seat to nature's geological wonders and inspire further exploration of the world around them.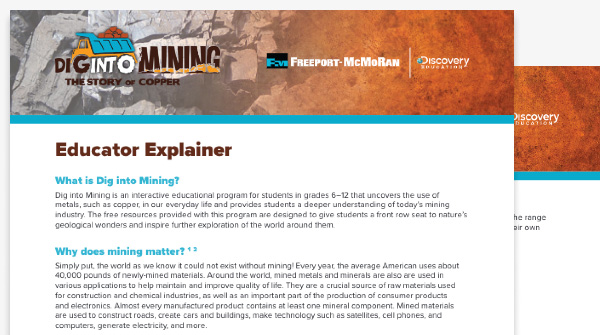 Program Guide
With Dig into Mining's interactive resources, students can drill-down into a range of fascinating subjects, from essential natural resources to raw chemical reactions to environmental sustainability and more.
Family Resources
Unearth the essential elements all around you and discover some unexpected uses of these geological wonders with engaging family activities.
Teacher Resources
Spark student engagement with these dynamic classroom tools designed to uncover how ores, metals and alloys advance technology and fuel growth.
Digital Explorations
Give students a deeper understanding of how STEM and analytical skills are used to solve real-world problems in today's copper industry, using these unique and engaging digital explorations.